Prove you're the greatest oracle
Skill-based game for traders, analytics and price-oracules





Sam may Win 0.1 BTC
in May

Every trader and analytics says "I'm the best oracle".


Well, Sam proved who's the best this month. Challenge Sam!
Win the competition in May and take your 0.1 BTC.

Challenge Sam

Milano
Win: 20.2 BTC
Lost: 4.0005 BTC

Nick
Win: 0.3008 BTC
Lost: 0.164 BTC

Sam
Win: 3 BTC
Lost: 0.8 BTC

Wiltor
Win: 1.7 BTC
Lost: 0.75 BTC

Anna
Win: 0.1 BTC
Lost: 0.5 BTC

Milano
Win: 20.2 BTC
Lost: 4.0005 BTC

Nick
Win: 0.3008 BTC
Lost: 0.164 BTC

Sam
Win: 3 BTC
Lost: 0.8 BTC

Wiltor
Win: 1.7 BTC
Lost: 0.75 BTC

Anna
Win: 0.1 BTC
Lost: 0.5 BTC

Milano
Win: 20.2 BTC
Lost: 4.0005 BTC

Nick
Win: 0.3008 BTC
Lost: 0.164 BTC

Sam
Win: 3 BTC
Lost: 0.8 BTC

Wiltor
Win: 1.7 BTC
Lost: 0.75 BTC

Anna
Win: 0.1 BTC
Lost: 0.5 BTC

Milano
Win: 20.2 BTC
Lost: 4.0005 BTC

Nick
Win: 0.3008 BTC
Lost: 0.164 BTC

Sam
Win: 3 BTC
Lost: 0.8 BTC

Wiltor
Win: 1.7 BTC
Lost: 0.75 BTC

Anna
Win: 0.1 BTC
Lost: 0.5 BTC
Matters only
Next price step will make you prime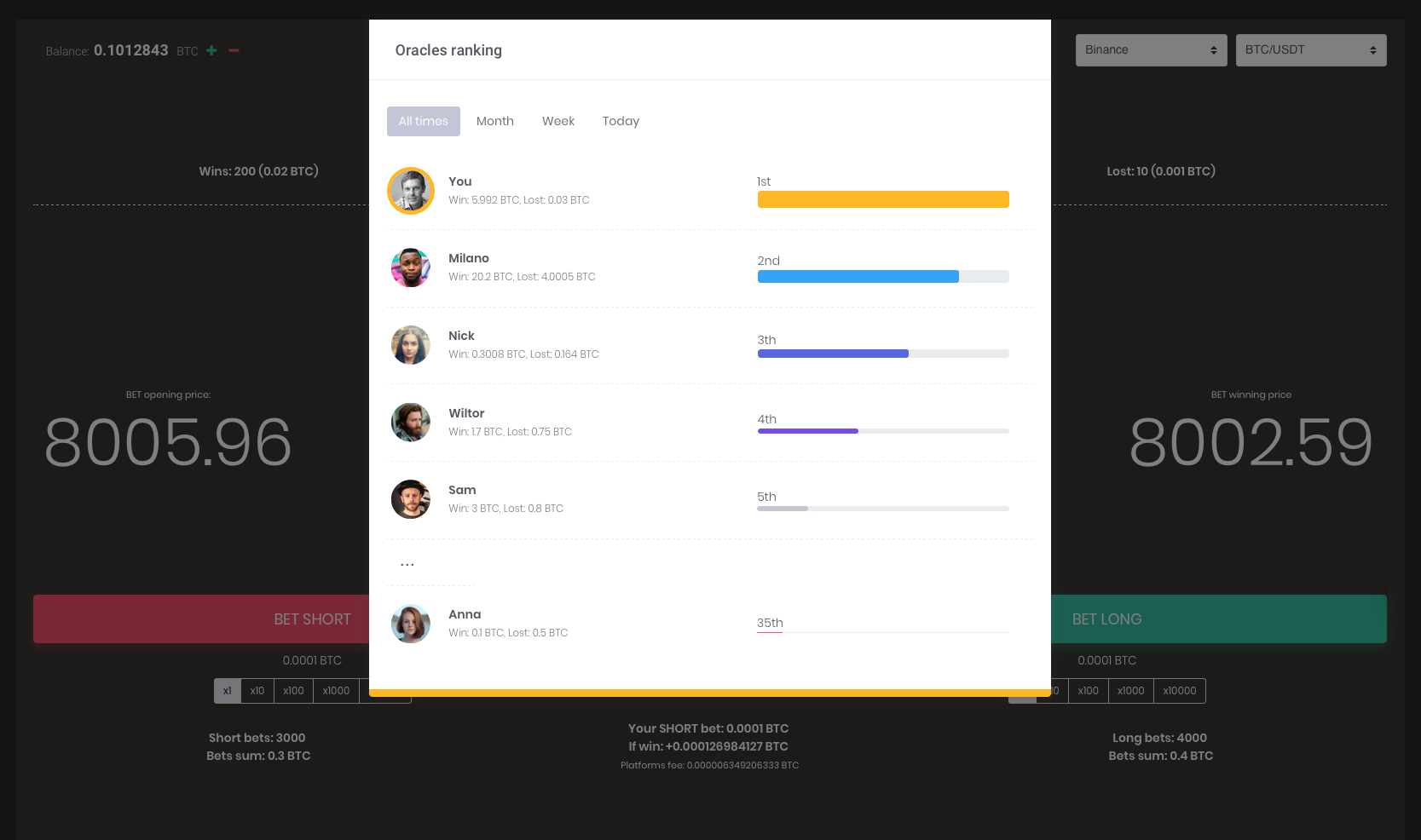 First-ever
Oracles challenge
Prove you're the best oracle
Every trader says he is the best.
Now there is an opportunity to prove it.
Challenge millions of applicants
Every minute, you can enter into a fair fight,
with oracles from around the world,
for the right to be called the Prime.
Full charged
Binance, Bittrex, Kraken and all existing pairs included. Choose your Exchange, pair and make your Short or/and Long bet
Brilliant fair challenge
Every price of each Exchange and pair are checkable with native Exchange interface or any of service
Be the First, Be the Prime
Do you think your kung fu is better than others? Prove it, and the whole world will applaud you

"Make your bets"
0-30 second of the game: You still do not see the original price, but with a little effort you can predict which way the price will go. You only have 30 seconds to bet on rising and / or falling rates.
Challenge price moving direction
Throughout the game, we help you make the right decision by indicating in which direction the price is moving.
Start challenge price "All bets are made"
31-60 second of the game: No more bets accepted. Starting challenge price is fixed. And you just have to watch the market move.
Final challenge price
If you bet on the price moving up (Bet Long), and the start challenge price will be lower than the final challenge price, then you will WIN.
Q: What if "Start challenge price" equal "Final challenge price"?
A: All bets will be back to the oracle's balance with no commissions and fees.
Q: What if I made a bet, but no one bet cons?
A: All bets will be back to the oracle's balance with no commissions and fees.
Exciting simple interface

Only two buttons...
The easy interface consists of only two buttons "Bet Short" and "Bet Long", will not allow you to make a critical error. And the color scheme of the interface will relax your eyes.
...and 30 seconds of thrill
Next 30 second after bets closing will be the more thrilled because you should just wait. Wait and relax, you made your bet.
Your one click bet amount
Every click on "Bet Long" or "Bet Short" button it's a single bet with the presented sum. You can choose another bet amount, using X-mode buttons. X-mode buttons just increase initial bet in 0.0001 BTC on the 10, 100, 1000 or 10000.
Bet / No Bets countdown timer
Follow the countdown timer. You can make your bets only if bets available and "Start challenge price" not fixed.

Bet SHORT, bet LONG
Have you bet and changed your mind? Sorry, but you can't cancel your previous bet. Please bet on the other side a larger amount. In any case, you just earn less money.
If WIN
All winners get all lost amount. So, if you bet Short 0.001BTC, and someone another bet Long 0.01BTC, so your balance will added 0.0105BTC (0.01BTC - 5% + 0.001BTC).
Total bets and Total bets sum
Count of all bets on Short or Long. If you make 5 bets and someone makes another 20 bets total count of bets will 25 not 2.
Total bets sum it's just "total bets" * 0.0001BTC.
Platform fee
BeeBET gets only 5% from winning amount. If you make a wrong choice and lost some amount you do not pay any fees.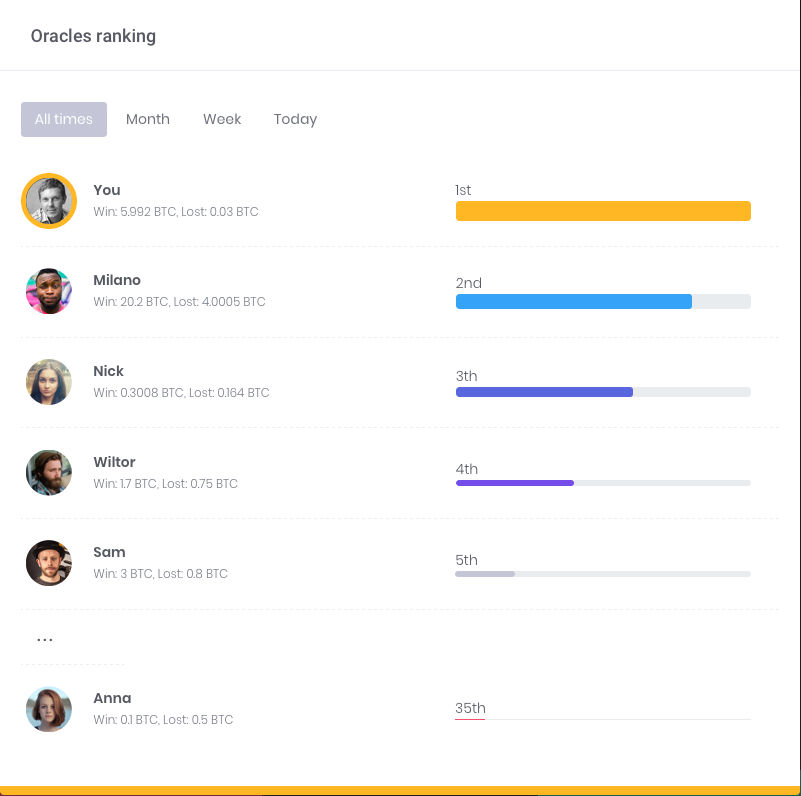 Who's the best? You the best!
Make you bet and get your rank
Every new challenge grows your rank higher and higher. Don't waste your time, make a bet, get a rank. Increase your rank, share your rank, and you will be invited to the Annual Oracle Challenge for a face-to-face duel with the best of the best.
Be the best and win up to 1BTC
Every day, every week, every month we make a new great challenge. Each of the users can win up to 1BTC.
Run your pump
A lot of traders feel skeptical for new coins and exchange. Run new challenge with your coin or exchange and grade most active, most skilled, most oracle users. M - marketing!
Want to get 0.1 BTC?
It's really easy. Don't you?
Take the First rank this May and 0.1 BTC is yours.
Challenge not started
Challenge Start 1st May
Everybody loves challenges. Everyone can win. Win our money.
Be the Prime
Only the winner will receive the award. No compromises: fair play, fair win, fair reward.
Use any of data and statistics
Use hints, technical analysis, fortune-telling on Tarot cards, use whatever you think is necessary to win.
Play with friends
Choose your favourite Exchange and Pair and invite friends to challenge. Rule your rank, rank your bet.
Rockstar oracle
Looking for traders, analytics or opinion leaders? Follow the most graduated Oracles and I bet you it's the best place to hire the best.
I BET YOU WIN
0.1

BTC
Be the Prime this May
and reward is yours.

Only one Oracle take all reward,
this May...
May
Challenge not started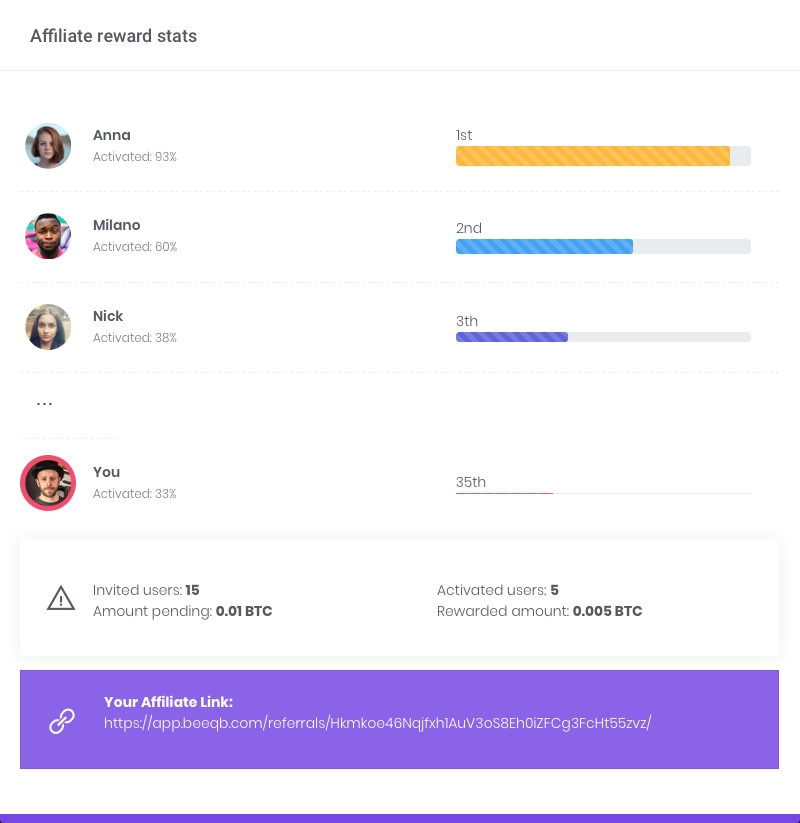 Brilliant Affiliate algorithm
You and your referral user get 0.001BTC.
Fair enough, does it?
What you should do to get Affiliate reward?
1. Share your affiliate link in your media, chats, groups, comments, etc.
2. Each registration over your link will add 1 user to your stats and add 0.001 BTC to the Pending amount. When the user activates the "Welcome bonus" 0.001 BTC will be added to your Balance.
What users should do to get a Welcome bonus?
1. Each user registered over your affiliate link received Welcome Bonus (0.001 BTC).
2. To get Welcome bonus user should add 0.002 BTC for Balance and take one Challenge.